EuroPride 2023 Valletta is upon us and it might be hard to navigate between the various events, so here is a list to help you find the best EuroPride Events:
DAY 11 – Sunday, 17th SEPTEMBER 2023 – Last Day
17th September 10AM:

NaviGAYt

Boat Party @ Sliema
The last day of EUROPRIDE!
And BeatBears will not let this massive event end without throwing their now famous boat party, naviGAYt.
Departing at 10:00am from Sliema UBurger King), we shall set sail around the islands on FAITH, a 35mtr Turkish Gullet, where we will enjoy 8 solid hours of beats on the seas by Chunky & Gengio, namely BEATBEARS and joined by DJ Royalty FRANCESCO PAGANO.
Returning to Sliema at 18:00hrs, we continue the afterparty at DISCO TITS by Lollipop at MedAsia Playa ca. 200 mtrs away, where ticket holders can access entry at a discounted price.
A percentage of ticket sales will be donated to gayguidemalta.com to help promote a gayer Malta and DAR QAWSALLA, a housing project by MGRM which is set to open in 2024. Once completed, it will provide accommodation to LGBTIQ+ individuals who encounter housing problems.
17th September 5.30PM:

Pride Around the Grand Harbour

 @

Le Regatta
Pride Around the Grand Harbour
is back and bigger than ever as the official closing event of EuroPride Valletta 2023 in collaboration with Malta Sailing Experiences and Le Regatta restaurant.
This time, we have more! More Boats + More Entertainment = One epic night!
This year we are offering you two different options.
Option 1: You can take the dgħajsa tal-pass (Traditional Maltese water taxi) directly from Le Regatta Restaurant.
Bookings of less than 6 will be grouped together so by the end of the night, you'll have more friends too.
Option 2: Book yourself on to an amazing Private Charter hosted by our friends Pia and Patrick from Malta Sailing Experiences.
PRICING:
Standard (with the dgħajsa tal-pass) – €35pp – Starting from Le Regatta, Senglea
Private Charter – €50pp – Starting from Roland Creek Marina, Ta' Xbiex
17th September 8PM:

 

Polyester Princess | Theatre

 

@

 

Spazju Kreattiv
Polyester Princess
is an interdisciplinary queer show that brings visual art, film and theatre together.
Through performer Elliot Ditton's lived experience combined with familiar fairy tale tropes, it explores body dysmorphia and the excruciating pressures we put on ourselves to be perfect. Through live video mixing the show will involve the audience in the creation process and invite viewers into the artist's mind; one of chaos, anxiety and ultimately beauty.
On Thursday 14th of September (after the performance), a Taħdita Teatru will be organised with the creative team to discuss the process behind this production, from page to stage.
Duration: 1 hour
Intermission: No
Language: English
Certification: 16 +
17th September 8PM:

 

Queer Classics

 

@

 

Maori
Join us for an unforgettable night of nostalgia and celebration as we close the EuroPride Valletta 2023 program with a bang at Queer Classics! Taking place on the 17th of September, this event promises to transport you back in time to the iconic eras of the 60s, 70s, 80s, and 90s. Get ready to party like it's the good old days, surrounded by the timeless anthems that have shaped queer culture. Queer Classics is your opportunity to relive the magic of the past and dance to the beats that defined generations. From the soulful sounds of Motown to the disco fever of Studio 54, we will be bringing you the ultimate playlist of chart-toppers and dancefloor fillers. Expect to hear your favorite hits that have become anthems for the LGBTIQ+ community, performed by talented DJs who know just how to keep the party going. But that's not all!
17th September 10PM: DISCOTITS Pool Party – Europride Closing Party @ Medasia Playa
The ultimate EuroPride 2023 closing party is here, and it's gonna be a wet and wild ride! – DISCOTITS POOL PARTY!
EuroPride 2023 may be coming to a close, but we're not done partying yet! Discotits by Lollipop is at its third year and will be taking over Medasia Playa, the sexiest lido in Sliema. From the early hours of the day, we'll be serving up refreshing cocktails and giving you the chance to take a dip before the real fun begins!
We've got the biggest and most talented DJ lineup to take you on a musical journey you'll never forget. From Annie O to BeatBears, Mari Mars, Chris Brown, Croque Madame and Yan Valer, these DJs will have you shaking those discotits all day and night!
But that's not all, honey – we're bringing you the fiercest drag performances! Get ready to be entertained by the most talented queens in the game, serving looks, attitude, and all the sass you can handle.
Ready to close out EuroPride 2023 with a bang? Of course you are! So grab your tickets now.
Tickets: tickethype.com.mt/europridepoolparty
Website: lollipopmalta.com
LGBT+ Tours & Sightseeing Programs
Valletta Queer History Walking Tour
Are you in the mood for an exciting and educational day out? Then we've got just the thing for you! The Valletta Queer History Walking Tour is an incredible way to explore one of Europe's most scenic and walkable cities, Valletta.
What sets this tour apart is that it provides an authentic exploration of Valletta's landmarks and history from the perspective of the LGBTQ+ community. You'll get a unique perspective on the city center, the red light district, and even the outskirts. Your tour guide will provide fascinating details about the LGBTIQ+ cultural heritage that make this city so special. Book your guided tour here.
From Stigma to Empowerment: A Women's History Tour of Valletta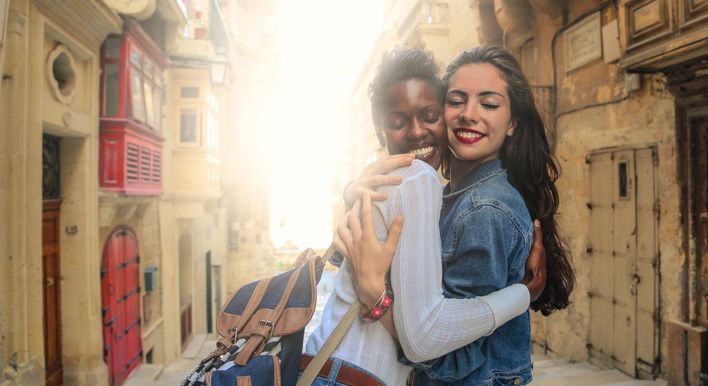 Discover the rich history of women in Valletta like never before with our unique walking tour. Join us as we explore the city's must-see places while presenting a different perspective that highlights the important role of women in shaping the city's past and present.
This tour offers a fascinating glimpse into the lives of women who freely offered non-marital services for private benefits. Discover their struggles, entrepreneurial pursuits, hopes, and dreams as we walk through the streets of Valletta. Book your guided tour online.
Exhibitions open every day during EuroPride:
6th – 17th September 10AM – 6PM:

 

[Be]loved Malta: Stories of sexual and gender identity

y

 

@

 

Main Guard (Valletta)
Heritage Malta shall suggest answers to such queries by presenting a number of human stories which unfolded in Malta along the centuries in an exhibition organised on the occasion of the first ever EuroPride held in Malta in 2023. Such exhibition is rendered even more significant by the fact that it occurs on the fiftieth anniversary of the decriminalisation of homosexual acts in Malta, in 1973.
This exhibition will be on display at the Main Guard building in Valletta, from the 6th of September until the 11th of November 2023 between 10:00 and 18:00 hrs.
Purchase the official catalogue and merchandise celebrating love in all its rainbow colours at the exhibition and in all our Heritage Malta gift shops. Click
here
for more information.
7th September – 17th

 

September

 

9AM – 10PM:

 

Amsterdam Rainbow Dress | Exhibition

 @

 

Spazju Kreattiv
Imagine a dress with a diameter of over 16 meters (52 feet), adorned with the flags of 68* countries where being LGBTIQ+ is still punishable by law. It includes eight countries where homosexual acts can even lead to the death penalty. The bodice of the dress proudly showcases the Amsterdam city flag, representing a city that has long been a sanctuary for the LGBTIQ+ community.
What does the Amsterdam Rainbow Dress represent? It symbolizes the importance of Amsterdam as a haven for LGBTIQ+ refugees and migrants who have faced persecution in their home countries based on their identity or whom they love. Amsterdam has a rich history of embracing and protecting the LGBTIQ+ community, and it is crucial to nurture and preserve this status for future generations. As the dress travels around the world, it aims to spread this message of inclusivity and tolerance to other cities and communities, advocating for a global society that celebrates diversity on multiple levels. Visit the event`s
Facebook page
.
7th September – 17th

 

September

 

9AM – 10PM:

 

Flag in the Map | Photography Exhibition

 

@

 

Pjazza San Gorg
Get ready to be moved and inspired by "Flag in the Map," a captivating exhibition that showcases the universal power of the Rainbow Flag to uplift and empower LGBTQ+ individuals in the face of adversity. From the 7th to the 17th of September, head over to St George`s Square and immerse yourself in this extraordinary collection of photographs and stories.
"Flag in the Map" is a collaboration between the renowned Gilbert Baker Foundation and ReportOUT, two organizations dedicated to advancing LGBTIQ+ rights and visibility worldwide. In October 2020, they issued an open call for submissions, inviting people from all corners of the globe to share their photos of proudly flying the Pride Flag. Visit the event`s
Facebook page
.
7th September – 8th October 9AM – 9PM:

 

Representing Pride | Photography Exhibition

 

@

 

Spazju Kreattiv
The exhibition will feature powerful and engaging stories that represent the experiences of LGBTQIA+ individuals from various cultural backgrounds and countries, from Albania to Tunisia. The photographers and creators will take you on a journey that will showcase the beauty of the LGBTQIA+ community and highlight their struggles, joys, and stories of resilience. Visit the event`s
Facebook page
.
Don`t miss out on the best EuroPride Events, check out the Full Program here.