EuroPride 2023 Valletta is upon us and it might be hard to navigate between the various events, so here is a list to help you find the best EuroPride Events:
EuroPride Valletta March & Concert Program
DAY 10 – Saturday, 16th SEPTEMBER 2023
16th September 4PM:

The EuroPride Valletta 2023 March

@ Starting point: St Ann Street, Floriana
Experience the exhilaration and power of unity at the highly anticipated
EuroPride March
. On the 16th of September, the vibrant streets of Floriana and Valletta will come alive with a kaleidoscope of colors, energy, and the unwavering spirit of the LGBTIQ+ community and its allies.
The EuroPride March is not just a walk; it's a declaration of love, equality, and inclusion. Join us as we take bold steps towards a future where everyone is celebrated and embraced for who they are, from the heart and within our hearts.
16th September 7.30PM:

The EuroPride Valletta 2023 Concert ft. Christina Aguilera

@ Fosos Floriana – FREE EVENT
Join us on September 16th at The Granaries, Floriana, as Christina Aguilera takes the stage to deliver an unforgettable performance that will leave you in awe. With her powerful vocals and captivating stage presence, she is set to create an electric atmosphere that will bring together people from across Europe and beyond in a vibrant show of solidarity.
This is a FREE CONCERT, however, registration is required. Click here to register.
16th September 4PM: Nerve:

EuroPride 2023 After Party – Colour Clash

@ Gianpula Village
Celebrate @europride2023 with the leading queer party in Malta for the biggest Pride After Party on the island
With 1 party, 2 stages, and 6 DJs, we'll be taking over the infamous Gianpula Village and bring the two clashing worlds of POP & TECHNO, showcasing an exciting mix of show-stopping performances, pop music, upcoming & queer techno artists, high-energy sets, and a star-studded SHOW for the ultimate PRIDE AFTER PARTY!
Match our COLOUR CLASH theme and stun the dance floor in colourful clothing for PRIDE! Give us clashing colours or monochromatic fits, and proudly show us your true colours
16th September, 23:00-04:00
Gianpula Village
Tickets available from
https://bit.ly/EUROPRIDEFBE
LGBT+ Tours & Sightseeing Programs
Valletta Queer History Walking Tour
Are you in the mood for an exciting and educational day out? Then we've got just the thing for you! The Valletta Queer History Walking Tour is an incredible way to explore one of Europe's most scenic and walkable cities, Valletta.
What sets this tour apart is that it provides an authentic exploration of Valletta's landmarks and history from the perspective of the LGBTQ+ community. You'll get a unique perspective on the city center, the red light district, and even the outskirts. Your tour guide will provide fascinating details about the LGBTIQ+ cultural heritage that make this city so special. Book your guided tour here.
From Stigma to Empowerment: A Women's History Tour of Valletta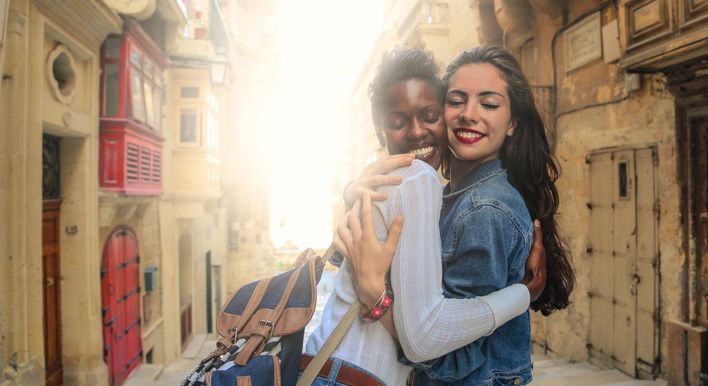 Discover the rich history of women in Valletta like never before with our unique walking tour. Join us as we explore the city's must-see places while presenting a different perspective that highlights the important role of women in shaping the city's past and present.
This tour offers a fascinating glimpse into the lives of women who freely offered non-marital services for private benefits. Discover their struggles, entrepreneurial pursuits, hopes, and dreams as we walk through the streets of Valletta. Book your guided tour online.
Exhibitions open every day during EuroPride:
6th – 17th September 10AM – 6PM:

 

[Be]loved Malta: Stories of sexual and gender identity

y

 

@

 

Main Guard (Valletta)
Heritage Malta shall suggest answers to such queries by presenting a number of human stories which unfolded in Malta along the centuries in an exhibition organised on the occasion of the first ever EuroPride held in Malta in 2023. Such exhibition is rendered even more significant by the fact that it occurs on the fiftieth anniversary of the decriminalisation of homosexual acts in Malta, in 1973.
This exhibition will be on display at the Main Guard building in Valletta, from the 6th of September until the 11th of November 2023 between 10:00 and 18:00 hrs.
Purchase the official catalogue and merchandise celebrating love in all its rainbow colours at the exhibition and in all our Heritage Malta gift shops. Click
here
for more information.
7th September – 17th

 

September

 

9AM – 10PM:

 

Amsterdam Rainbow Dress | Exhibition

 @

 

Spazju Kreattiv
Imagine a dress with a diameter of over 16 meters (52 feet), adorned with the flags of 68* countries where being LGBTIQ+ is still punishable by law. It includes eight countries where homosexual acts can even lead to the death penalty. The bodice of the dress proudly showcases the Amsterdam city flag, representing a city that has long been a sanctuary for the LGBTIQ+ community.
What does the Amsterdam Rainbow Dress represent? It symbolizes the importance of Amsterdam as a haven for LGBTIQ+ refugees and migrants who have faced persecution in their home countries based on their identity or whom they love. Amsterdam has a rich history of embracing and protecting the LGBTIQ+ community, and it is crucial to nurture and preserve this status for future generations. As the dress travels around the world, it aims to spread this message of inclusivity and tolerance to other cities and communities, advocating for a global society that celebrates diversity on multiple levels. Visit the event`s
Facebook page
.
7th September – 17th

 

September

 

9AM – 10PM:

 

Flag in the Map | Photography Exhibition

 

@

 

Pjazza San Gorg
Get ready to be moved and inspired by "Flag in the Map," a captivating exhibition that showcases the universal power of the Rainbow Flag to uplift and empower LGBTQ+ individuals in the face of adversity. From the 7th to the 17th of September, head over to St George`s Square and immerse yourself in this extraordinary collection of photographs and stories.
"Flag in the Map" is a collaboration between the renowned Gilbert Baker Foundation and ReportOUT, two organizations dedicated to advancing LGBTIQ+ rights and visibility worldwide. In October 2020, they issued an open call for submissions, inviting people from all corners of the globe to share their photos of proudly flying the Pride Flag. Visit the event`s
Facebook page
.
7th September – 8th October 9AM – 9PM:

 

Representing Pride | Photography Exhibition

 

@

 

Spazju Kreattiv
The exhibition will feature powerful and engaging stories that represent the experiences of LGBTQIA+ individuals from various cultural backgrounds and countries, from Albania to Tunisia. The photographers and creators will take you on a journey that will showcase the beauty of the LGBTQIA+ community and highlight their struggles, joys, and stories of resilience. Visit the event`s
Facebook page
.
Don`t miss out on the best EuroPride Events, check out the Full Program here.